Team Work In Action!
Team Work In Action!
4 October 2022 (by Katherine Gillard (kgillard))
Y6 developed their personal and social skills to conquer the orienteering challenge!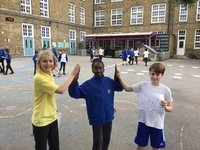 Today in PE, the Y6 children applied their mapping skills to follow various routes around the playground. They had to stop at various stations as they navigated tricky routes in their teams. Each station had part of a maths calculation and the aim was to find the answer for that route. Once the answer had been checked and verified with a high-five, they were challenged with another route! Before the challenge commenced, we talked about the importance of communication, resilience, cooperation and supportive team work in order to be successful. It was great to see all the children working so well together! Well done Y6, great team work!