Our Curriculum
We want the pupils at London Fields to learn to be able to think well and feel well so that they can contribute and belong to a better world. We want them to not only leave with the academic knowledge and skills they will need to succeed at secondary school, but also to hav
e a love of learning and a sense of their own agency and importance in the world. We want them to feel they have a voice and a stake in the future.
What does the school want pupils to learn and why?
We have co
nstructed a curriculum that is ambitious and designed to give all pupils the knowledge and cultural capital they need to succeed in life. Pupils study the full curriculum; it is not narrowed but carefully plotted and timetabled to ensure not only coverage but also opportunities for pupils to build links within and across subjects, and schema that will organise knowledge in a meaningful way, helping to aid recall and retention.
The Art Knowledge Organiser showing the Art 'Big Ideas' and Knowledge Categories
Based on clear, essential discipline-specific characteristics and the National Curriculum expectations, our curriculum aims to provide the correct balance of procedural and semantic knowledge. Key subject schemas have been created (known as Knowledge Organisers to be more child-friendly) for each subject. These Knowledge Organisers are based on subject specific 'Big Ideas'. Big Ideas are key concepts which underpin the subject, i.e. the key concepts we are aiming for the pupils to master to display the essential characteristics of e.g. an artist/ a geographer etc. Each Big Idea has its own facets of knowledge (knowledge categories) which help strengthen the schema and the Big Ideas are explored in a wide breadth of topics. Pupils return to the same Big Ideas (concepts) over and over, and gradually build understanding of them. Academic learning is supported by rich and considered outside of the classroom experiences which enhance learning and help to build cultural self-esteem. The Knowledge Organiser is proactively used to enable pupils to embed and deepen understanding progressively and make links between different topics of work.
How is this put into practice in the school curriculum planning?
The school's curriculum is coherently planned and sequenced towards cumulatively sufficient knowledge and skills for future learning and employment. Experienced subject leads work with the whole school curriculum lead to plan detailed medium term plans. Foundation subject planning follows a standard format to help build clarity, coherence and consistency. The relevant sections of the National Curriculum are referenced to focus planning content.
The Art Knowledge Map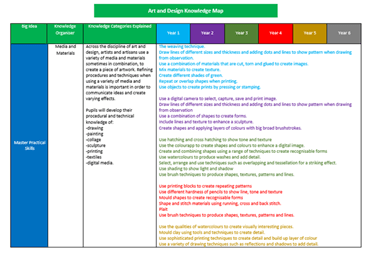 Knowledge Maps outlines the key procedural and semantic knowledge pupils will be taught for each subject. Knowledge Maps support teachers to maximise opportunities to make links across topics and subjects, helping to deepen an understanding of the Big Ideas. Continuous provision in the form of daily routines, replaces the teaching of some aspects of the curriculum and, in other cases, provides retrieval practice for previously learned content.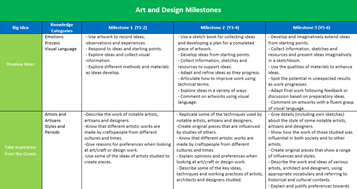 For each of the Big Ideas in each subjects, three milestones have been outlined. These are the key goals pupils are aiming for by the end of Y2/Y4/Y6.
For pupils to demonstrate mastery or greater depth of the milestones, takes time. They need to gradually progress in their procedural fluency and semantic strength through three cognitive domains: basic, advancing and deep.
As part of the progression model a different pedagogical style is used in each of the cognitive domains of basic, advancing and deep. This is based on the research of Sweller, Kirschner and Rosenshine who argue for direct instruction in the basic domain and problem-based discovery in the deep domain. Each subject's curriculum planning provides teachers with four elements to help pupils meet the milestones:
the knowledge needed to build schema
the vocabulary needed to articulate an understanding of subject
clearly defined topics to study which ensure curriculum breadth
an outline of appropriately pitched cognitive domain tasks to carry out to show proof of progress
CPD is provided through curriculum planning meetings between subject leads and teachers to help to build subject knowledge and to adapt subject topic planning suitably for each cohort. As a result, the curriculum can be successfully modified, designed or developed to be ambitious and meet the needs of pupils with SEND.
A bespoke English curriculum has been developed to promote high standards of language and literacy by equipping pupils with a strong command of the spoken and written word, and to develop their love of literature. The children follow a systematic learning to read programme (Read Write Inc) in EYFS through to KS1. Once the pupils have learned to read independently, they move onto the school's literacy programme. English subject leads carefully bridge this transition from RWI to the literacy programme to ensure smooth progression. Each literacy group has carefully chosen quality core texts (including fiction, non-fiction and poetry texts) which act as the stimulus to teach pupils to speak and write fluently so that they can communicate their ideas and emotions to others and through their reading and listening, others can communicate with them. Having engaging and challenging core texts allows pupils to develop a love literature and read for enjoyment. Ensuring all pupils develop all the skills of language are essential not only in order to access the rest of the curriculum but also to participate fully as a member of society and ultimately impact on their future life chances.
In Mathematics we have developed a curriculum and approach that is rooted in promoting a conceptual and deep understanding of the subject. We use a high quality textbook and workbook, Maths No Problem, to support our teachers in planning and delivering high quality, mathematically rich lessons.
Each Maths lesson has a single learning point. Procedural and semantic knowledge is built coherently within and across lessons through microscopic steps. As a result, our lessons spend longer focusing on the core Mathematical topics and move through this core content at a slower pace. This offers our pupils increased opportunities to retrieve knowledge and refine their skills through intelligent and deliberate practice.
We believe that children learn best with their relevant age group, and that everybody can experience success in Mathematics. We aim to provide lessons that are both supportive and rich enough to meet the needs of all our pupils. Ultimately, we want our pupils to leave our school as effective Mathematicians who both enjoy and achieve in the subject, and who understand the relevance and power it holds to improve lives.
How do leaders ensure pupils can remember the curriculum long term?
Our curriculum is built on Big Ideas for each discipline giving a consistent and focussed approach. Using the National Curriculum as a baseline, curriculum mapping ensures not only coverage but careful sequencing and progression in procedural and semantic knowledge. Links between areas of knowledge are maximised and made explicit. Revisiting the Big Ideas over and over again, in different contexts, ensure pupils develop a deep understanding of what they have been taught, allows connections to be made and schemas to be formed. Oracy activities are woven into planning to deepen and embed learning and build engagement. CPD on cognitive load theory has informed pedagogy and led to planning streamlining.
Does the curriculum remain as broad as possible for as long as possible?
The full curriculum is taught throughout the school. Subjects have been carefully timetabled to ensure coverage and progression. Each year group has a simple, standardised class timetable to maximise the use of learning time. Blocked foundation subject planning from Y1 – 6 ensures that:
Big Ideas are revisited over and over again, in a range of different contexts
all subjects have quality space in the timetable
opportunities for deep learning are maximised
teachers and pupils can become immersed and focussed on specific subject and the learning journey does not become disjointed and fragmented
workload is manageable and teachers have the time and space to focus on the topic block and planning
subject leads can support with planning and teaching and monitor the impact of the curriculum more effectively
cognitive load on pupils is balanced and opportunities for transference of learning into long term memory is increased
How do you use research to support teaching? Can leaders explain the focus, rationale and impact of staff training on the curriculum?
We are an outward looking school that is keen to be innovative and purposeful. We have completed a 2 year Visible Learning programme based on the research findings of John Hattie. We have referred to key messages from EEF toolkit in devising our curriculum. One of our maths leads is seconded to the local Maths Hub and is a MaST specialist. The headteacher is an NLE and acts as System Leader Support for several out of borough primaries and a SIP for the local authority. Working collaboratively with these schools has helped to clarify and develop our approach and also to learn from others experiences and approaches.
Whole school CPD is closely aligned to SDP priorities and impact in practice is then carefully monitored. Planning, pedagogy and practice are adapted to incorporate findings from research, eg concepts from cognitive load theory or central role of timely feedback. Monitoring feedback informs further support and CPD. Bespoke and individualised CPD is provided through planning meetings and mentoring.
How do leaders know if pupils 'learn the curriculum' and how do they track achievements?
A range of assessment measures are used as outlined in the Teaching and Learning Policy and Assessment Policy. Opportunities to capture pupil voice are built into the planning. The school is currently contributing to the local authority working party of developing meaningful assessment and feedback.
How does your curriculum reflect the culture, climate and values of your school?
The school offers a bespoke curriculum, designed carefully with our children in mind and also with our vision of what education should be. In creating and developing our offer, we considered:
Cultural bias – maximise opportunities for raising cultural self-esteem both in the subject planning and also in the wider environment, eg, class names, images, assemblies. Planning actively promotes BAME role models and challenges European bias where possible. British values are woven through pastoral care and SMSC as well as the academic curriculum. Social and moral rights and responsibilities are taught in context through the academic curriculum as well as through assemblies, Philosophy for Children and the pastoral offer.
Overlearning – how can planning and pedagogy allow for purposeful overlearning and understand the necessity for correct pitch and challenge
Rich experiences – trips, forest school, art weeks, visit, work week to not only support particular curriculum topics but also to provide wide life experiences to all and to support social mobility
Strong SEND provision – bespoke curriculum within curriculum for pupils with complex additional needs
Cohesive and coherent structures to aid systematic, purposeful learning and also to support teachers' subject knowledge and understanding
Overarching Big Ideas and Knowledge Categories build progression and make links across topics and subjects, helping deepen understanding and skills
Blocked curriculum carefully constructed to support balanced cognitive load and transfer of knowledge to long term memory
Links made between subjects and topics where possible
Core vocabulary reinforced and presented in different contexts to aid deeper understanding of core knowledge
Strong well-being offer to support children to 'feel well' and to develop their social and emotional literacy using a simple whole school approach - Zones of Regulation
Experienced subject leads provide detailed curriculum planning, co-ordinated by curriculum lead, to support teacher subject knowledge. Timetabling planning meetings allow teachers to have input and to provide valuable CPD opportunities
How have you decided on the breadth of experiences you provide?
Whole school timetabling and mapping ensure a wide and balanced curriculum developed from the obligations of the National Curriculum. Knowledge, understanding and skills have been carefully considered across key stages to ensure breadth and balance. Purposeful subject schemas have been developed by experienced subject leads to ensure curriculum breadth is achieved. Planning is regularly challenged for potential unconscious bias and audited for opportunities to teach and promote BAME role models. Trips, workshops and experiences, such as Work Week, are planned to support the academic curriculum and also to contribute to personal development and pupils' sense of agency.
How does the curriculum provide for physical and mental wellbeing?
Our school vision is built on the two clear concepts of 'Can my mind think well? Can my mind feel well?' We believe that well-being needs to be taught and explored explicitly through lessons in the curriculum such as Healthy Living in Science, Cookery and PE and implicitly through the way all members of the school respect each other, listen to each other and care for each other. Our approach to behaviour encourages pupils to develop their emotional literacy and to discuss and acknowledge their feelings and emotions. Bespoke packages of support are developed for vulnerable pupils.
What is the role of subject or other leaders in ensuring curriculum coverage, progression and improvements?
Subject leads work with the Curriculum Lead to ensure that statutory aspects of the curriculum are met. Curriculum overviews and curriculum planning are plotted out using the whole school planning formats. Planning is resourced by the subject leads and teachers are given extra release time to attend planning meeting with the subject lead to discuss curriculum planning. The purpose of these meetings is not only to ensure that the planning is refined to meet the needs of the current relevant cohort but also to provide valuable CPD to teachers and allow their input and increase their sense of ownership.
The teaching of subjects is monitored and feedback from lesson observations, learning walks and work scrutinies etc as well as pupil voice feedback informs future planning refinements and developments – under the guidance of the Curriculum Lead. This ensures coherence and cohesion.
What is it like to be a pupil at this school?
Here's what the pupils say…
One of the best things about our school is the poetry. Lots of children like listening to poems and reading poems and the teachers inspire you to create your own poems.
Teachers in our school help you discover your talents - the school gives you a lot of chances to find out what you're good at
Science is really fun - the fact that it's so logical. You can say, 'oh this happens and so that happens' and the more science you learn, the more you understand it.
I really like Literacy in our school. I really love the books we get to read, and they're all so different.
We're doing Music at the moment and it's so nice for people who thought they didn't like it to find out that they're really good at it, and the teachers make sure everyone is good at it.
I also really love D&T - it's so cool. We do things I would never have even thought of, like, a few years ago we made night lights and I remember the Year Sixes made fairground rides - I hope we get to do that. We do such cool projects - things I would never even think of making.
I also love creative writing because it isn't very restrictive, we can put our own twists on it and there aren't really any limits on what you can write. I can be really creative.
I like the way we block our subjects. We get to spend a long time thinking about one subject and we can link back to our other lessons and you can remember everything you've learned.
[When asked about blocked curriculum] I always feel proud of my work because I can spend a long time on a project and the teachers give me time to create something I can be proud of. I'm proud of my books because I know I've done a good job.
I like the way the subjects sometimes mix up. For example, in Science, we drew scientific drawings of skulls so we were doing Art and Science at the same time.
We are very proud of our curriculum which has been developed by subject specialists and been nationally recognised through various awards. Please select each subject for more details on each subject and click here for a curriculum overview.