Physical Education
Latest News
PE
Year 5 has been enjoying swimming and art!
Further Articles »
Physical Education (PE) at London Fields Primary School
At London Fields we have made the PE curriculum as varied as possible so that all children experience a range of sports and physical skills. Every term or half term the focus of PE is different allowing children to succeed and excel in competitive sport and other physically-demanding activities. Throughout the PE curriculum at London Fields, children will learn and develop important physical skills, such as hand-eye coordination, body movement control, handling and controlling different sporting equipment, team work and fair play. The PE curriculum has been carefully planned specifically to each year group so that, as the children move through the school, their skills are extended and developed.
Our PE Curriculum develops essential characteristics of athletes:
The ability to acquire new knowledge and skills exceptionally well and develop an in-depth understanding of PE.
The willingness to practise skills in a wide range of different activities and situations, alone, in small groups and in teams and to apply these skills in chosen activities to achieve exceptionally high levels of performance.
High levels of physical fitness.
A healthy lifestyle, achieved by eating sensibly, avoiding smoking, drugs and alcohol and exercising regularly.
The ability to remain physically active for sustained periods of time and an understanding of the importance of this in promoting long-term health and well-being.
The ability to take the initiative and become excellent young leaders, organising and officiating, and evaluating what needs to be done to improve, and motivating and instilling excellent sporting attitudes in others.
Exceptional levels of originality, imagination and creativity in their techniques, tactics and choreography, knowledge of how to improve their own and others' performance and the ability to work independently for extended periods of time without the need of guidance or support.
A keen interest in PE. A willingness to participate eagerly in every lesson, highly positive attitudes and the ability to make informed choices about engaging fully in extra-curricular sport.
The ability to swim at least 25 metres before the end of Year 6 and knowledge of how to remain safe in and around water.
How PE is taught at London Fields Primary School
The PE curriculum is designed to help children form a PE scheme within their long-term memories.
Schema theory states that all knowledge is organised into units. A schema is, therefore, a conceptual system for understanding knowledge.
Our PE schema is a way of organising PE semantic and procedural knowledge in a meaningful way; it is an appreciation of how facts are connected and the ways in which they are connected. It is distinct from information, which is just isolated facts that have no organisational basis or links.
Big Ideas help form the basis of the schema. Big Ideas are key concepts that underpin the subject. There is one Big Ideas in PE:
Developing Practical Skills (Learning a range of physical movements and sporting techniques)
Each Big Idea has facets of knowledge (knowledge categories) which help to strength the schema. Learning knowledge in each of the categories allows pupils to express and demonstrate their understanding of the Big Idea.
These Big Ideas are returned to over and over again so the pupils gradually build understanding of them.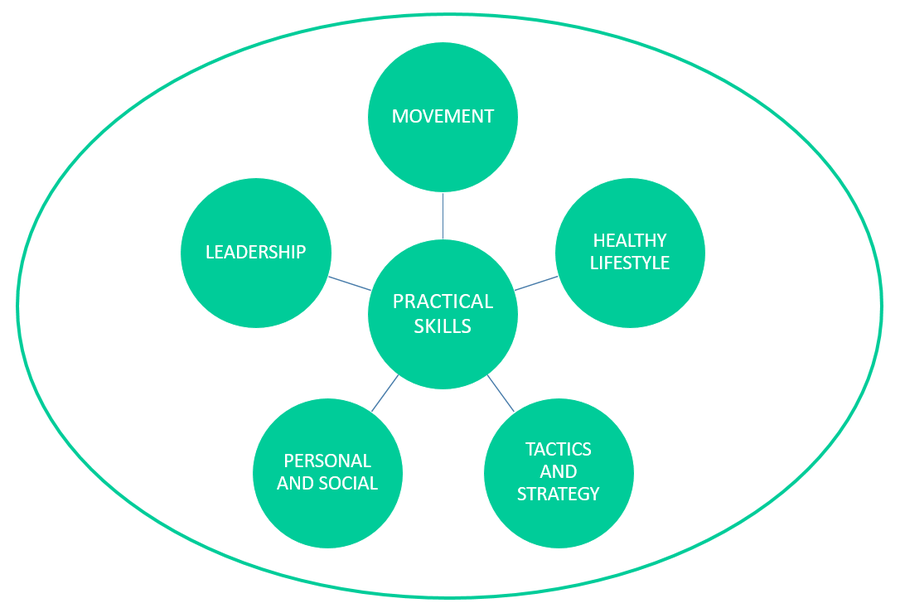 Click here for more general information about the curriculum.
PE Trips, Visitors and Workshops
Throughout the year workshops and trips are also organised for each year group to further broaden the children's experiences. Over the past few years the children have attended England Football matches, taken part in the Hackney Half Schools' Challenge, Personal Best workshops and Dance workshops. Throughout the year London Fields takes part in competitions, festivals and sports matches onsite and offsite. These experiences enhance the importance of team work, good sportspersonship and fair play. As well as inter-school competitions, we regularly take part in intra-school competitions. These go towards our School Games Mark.
How is P.E. funding spent?
Each year the P.E funding is carefully allocated to the following areas: sports workshops and trips, equipment, teacher CPD and after school clubs. For more information, please check the P.E funding document here.
What sports clubs are available at London Fields?
London Fields offer a wide range of sports clubs to which any child can join. We think it is important that children are as active as possible and we encourage all children to participate in extra-curricular sports. Visit our clubs page to find out more.
What swimming provision is there at London Fields?
Year 3 and Year 5 go swimming throughout the academic year. They are taught at King's Hall swimming pool and the lessons are differentiated to suit all levels. Beginners are taught basic skills and by the end of the year should be able to swim a width of the pool successfully. Children who already have some swimming ability are given the opportunity to increase their knowledge and skills by practising different strokes and skills such as treading water and picking up objects from the bottom of the pool.
PE at Home
There are lots of ways in which you can support your child with their PE learning.
Engage in sporting activities such as a walk, jog, run, bike ride or swim. Aim for an average of at least 60 minutes of moderate intensity physical activity a day across the week.
Reduce the time spent sitting or lying down at home and break up long periods of not moving with some activity
Watch live sporting events
Check our website for Sports Competitions
Talk about Sport in the world around you
Ask your child about their PE learning
You might find some of the following websites useful: