Religious Education
Latest News
Religious Education
Year One are learning about Special Books as part of their Religious Education curriculum this week. Children have been bringing books into school that are special to them.

Today we demonstrated our plans for the future by dressing up as 'Big Me'. We represented a huge range of careers from Doctors and Vets, to Pilots and Footballers, Builders and Fashion Designers and a LOT of teachers!

Year 2 have been learning about Hinduism in R.E.
Further Articles »
Religious Education at London Fields Primary
Why is RE important?
All primary schools need to "raise the status of RE" (Ofsted) and provide an RE curriculum which promotes respect and empathy. RE is considered to be an important part of a child's education, especially their early education, because it allows young people to develop their beliefs and values. It helps children understand the place of religion and belief in the world. The teaching of RE is also important because it contributes educationally to the spiritual, moral, social and cultural development of all pupils, whether or not they are from a religious tradition.
Which world religions do we study?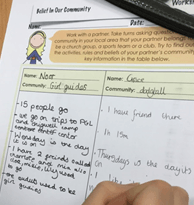 Our children are taught a variety of the major world religions. These include Buddhism, Christianity, Islam, Hinduism, Judaism and Sikhism, as well as considering the beliefs of those that are not religious. From Year 1 through to Year 5 each of the major religions will be covered twice. Within this, they study a theme or festival associated with that religion. For example, in Year 2 children study Buddhism and focus on 'Who was Buddha'? These children will then revisit Buddhism in Year 4 studying 'Buddhist festivals'. Throughout both Key Stages children are given the opportunity to not only learn about the individual religions but are encouraged to discuss and think about their similarities and differences with other religions at the same time. For example in Year 1 children will study a unit on 'special books' which introduces and compares the holy scriptures for the major religions allowing children to identify resemblances and variances between each book. Finally in Year 6 children will focus on Humanism and 'Belief in our community' allowing children to focus on their own beliefs as well as others in the local community.
How do we make cross-curricular links?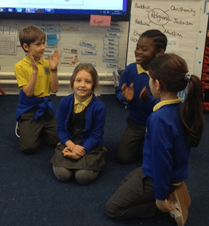 When planning lessons, teachers at London Fields consider other subjects and endeavour to make cross-curricular links. For example, long writing tasks are often incorporated into lessons so that children have an opportunity to write down their ideas, opinion and views in a structured task (diary entries, letters or even stories). Teachers also encourage drama work to reinforce teaching points and to allow children to express themselves about a particular topic. These drama activities can increase pupil confidence, allow 'pupil voice' and provide valuable opportunities for personal and spiritual exploration.
What is special about RE at London Fields?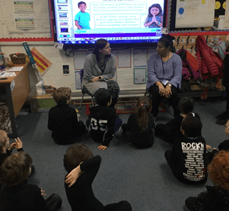 We aim for our RE curriculum to provide children with challenging questions about the meaning of life, including global issues. We do this by promoting civilised debate and in-depth discussions.
Teachers have access to a range of religious artefacts to support their lessons for each religion. We organise regular RE trips to different places of worship within our local area such as the London Buddhist centre. Elsewhere in London the children will visit other buildings of significant religious meaning (e.g. the BAPS Shri Swaminarayan Mandir in Neasden). All of these opportunities are examples of how we provide our children with hands-on authentic experiences of the diversity of religion and how we value experiential learning and aim to enrich RE.
At London Fields we benefit from a very diverse faith school community. During our RE lessons, teachers offer opportunities for pupils to encounter an authentic voice of faith and belief. This means that we encourage dialogue between pupils and praise those who want to share their own unique and personal religious experiences. This is particularly beneficial when pupils teach their classmates about particular religious traditions or festivals. Here, our pupils become the "experts" and we believe that this can not only raise self-esteem but also give a positive image of each faith and enhance the quality of learning in RE. We can also welcome members of our school community, including parents and relatives, to come and speak to our classes about a particular RE topic.
How does RE help prepare the children for Secondary School?
It enables pupils to develop respect for and sensitivity to others, in particular those whose faiths and beliefs are different from their own. It thus helps our children to prepare for adult life, employment and lifelong learning.
Our RE Vocabulary
At London Fields, we know that a good understanding of a wide range of vocabulary supports success across the whole national curriculum. We have identified 'core' words that the children will meet in different subjects and in different topics. These words will be revisited and taught in different contexts so that the children develop a deep understanding of their meaning and they become tools with which children can access the knowledge, skills and understanding the curriculum demands. Obviously, these are not the only words we will teach. But they will form a backbone through our curriculum to help to scaffold and develop the children's learning.