Latest News
English
Reception children enjoyed a performance by Y3 pupils!

Y2 children enjoyed their creative writing today!

We had fantastic day celebrating the beauty of books!
Further Articles »
English at London Fields Primary School
The English curriculum has been designed so that pupils are taught how to speak and write fluently so that that they can communicate their ideas and emotions to others and through their reading and listening, others can communicate with them. Pupils are exposed to a range of engaging and challenging texts and develop a love literature and read for enjoyment- at London Fields we are all avid readers! The curriculum also ensures that all pupils develop all the skills of language which are essential not only in order to access the rest of the curriculum but also to participate fully as a member of society and ultimately impact on their future life chances.
Our English curriculum develops essential characteristics of:
Readers:
Excellent phonic knowledge and skills.
Fluency and accuracy in reading across a wide range of contexts throughout the curriculum.
Knowledge of an extensive and rich vocabulary.
An excellent comprehension of texts.
The motivation to read for both study and pleasure.
Extensive knowledge through having read a rich and varied range of texts
Writers:
The ability to write fluently and with interesting detail on a number of topics throughout the curriculum.
A vivid imagination which makes readers engage with and enjoy their writing.
A highly developed vocabulary and an excellent knowledge of writing techniques to extend detail and description.
Well organised and structured writing, which includes a variety of sentence structures
Excellent transcription skills that ensure their writing is well presented and punctuated, spelled correctly and neat.
A love of writing and an appreciation of its educational, cultural and entertainment values.
Communicators:
An exceptional talent for listening attentively so as to understand what is being said.
A rich and varied vocabulary that gives clarity and interest to conversations.
Clear speech that can be easily understood by a range of audiences.
An excellent grasp of the rules used in English conversation, such as tense and the grammatical structure of sentences.
A delight in initiating and joining in conversations
Respect for others when communicating, even when views differ.
How English is Taught at London Fields
The English curriculum is designed to help pupils form an English schema within their long-term memories.
Schema theory states that all knowledge is organised into units. A schema is, therefore, a conceptual system for understanding knowledge.
Our English schema is a way of organising English semantic and procedural knowledge in a meaningful way; it is an appreciation of how facts are connected and the ways in which they are connected. It is distinct from information, which is just isolated facts that have no organisational basis or links.
Big Ideas help form the basis of the schema. Big Ideas are key concepts that underpin the subject. There are three Big Ideas in English:
Reading
Writing
Communicating
Each Big Idea has facets of knowledge (knowledge categories) which help to strength the schema. Learning knowledge in each of the categories allows pupils to express and demonstrate their understanding of the Big Idea.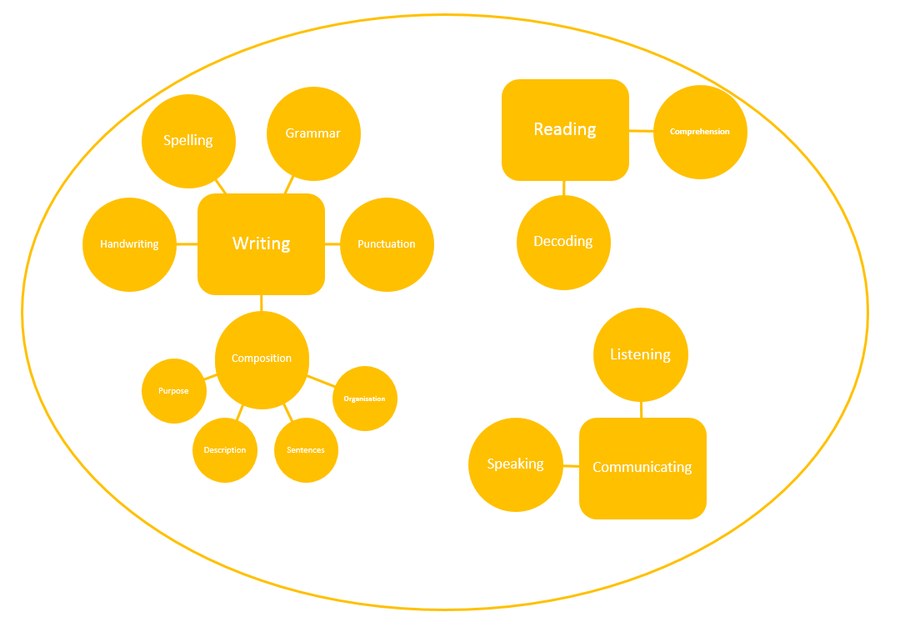 These Big Ideas are returned to over and over again so the pupils gradually build understanding of them. They are returned to through a range of lessons including:
RWI (early reading programme)
Literacy (post early reading programme)
Handwriting
Creative Writing
Class Reader
Home Reading
Book Club
The Big Idea of Reading
Pupils are taught to decode and have speedy recognition of familiar words builds on their learning from the school's teaching of early reading. Link to Early Reading Programme. Developing pupils' comprehension skills happens through ensuring the pupils, over the course of a term, read widely across a range of texts and respond to these texts. This allows pupils to increase their vocabulary because they encounter words they would rarely hear or use in everyday speech and to develop knowledge of the world in which they live in. In addition, reading tasks and carefully planned questioning helps develop the pupils' ability to answer literal comprehension as well as being able to read for meaning and show an appreciation of reading.
To further promote pleasure for reading, the school has a fantastic library which is accessible to all pupils. The library contains a diverse range of books which are updated annually. Literacy and other subject lessons are planned to make use of the library and opportunities are available for pupils to use the library in their spare time. Reading buddies, library parent and pupil open evenings and lunch time library club are a few examples of how the library is used to enhance the pupils' enjoyment of reading.
The Big Idea of Writing
Writing at London Fields helps develop pupils' competencies in two key areas- transcription (spelling and handwriting) and composition (articulating ideas and structuring them in speech and writing). Carefully planned, regular writing opportunities also allow the pupils to develop their writing stamina, ensuring all pupils can write at length. Every week the pupils are given the opportunity to write an extended piece for a range of real purposes and audiences and to practise specific transcription and composition skills. The pupils are given opportunities to develop their ability to think aloud, explore and collect ideas, draft and re-read their writing as it forms. Pupils are also taught the importance of proof-reading and monitoring their own writing to make sure it is effective. Each year, pupils embark on a several whole school writing projects. The outcomes of these projects celebrate progression in writing across the school.
The Big Idea of Communicating
Spoken language underpins the development of reading and writing. The quality and variety of language that the pupils hear and speak are vital for developing their vocabulary and grammar and their understanding for reading and writing. Pupils are provided with opportunities to develop their spoken language though meaningful talk opportunities such as whole-class debates, partner work, group work, reading aloud for performance or fluency and drama based activities.
English across the curriculum
Pupils get to rehearse, apply and consolidate their learning in all other areas of the curriculum. Careful planning ensures pupils continue developing all areas of English in other subjects.
Visitors and Workshops
We strongly believe that trips, visitors and workshops are highly valuable for developing a deep understanding of the Big Ideas in English and bringing the subject to life. We are extremely fortunate to be based in London with a wealth of cultural opportunities at our fingers tips. We are constantly looking for new experiences that will enrich the learning of our pupils. Previous enriching experiences have included:
Story Telling workshop at the British Library
Story Writing workshops with the Ministries of Stories
Visits from authors including Michael Rosen and David Lucas
Visits and workshops at Hackney Library
Plus, all trips, visitors and workshops linked to other subject areas help support children's comprehension of the world around them.
English at Home
There are lots of ways you can help support your child at home with English.
Talk to them! The most important thing you can do is to talk to your child and listen to them when they are talking to you. Try to extend their vocabulary range and their skill at talking in increasingly more complex sentences. For example, try to teach them alternative words for ideas, or nouns they already know.
Read to them and always discuss the story you are reading to try to build your child's comprehension skills and understanding.
Listen to your child read every night. Find a quiet time to hear your child read and use lots and lots of praise to encourage them.
Encourage your child to record their writing in a variety of ways. They may wish to keep a diary, write a story or send a postcard. Support their ideas and give plenty of encouragement!
Make use of your local library. Children love going to the library and having access to such a huge, diverse range of books.