Forest School is back in action!
Forest School is back in action!
13 January 2022 (by Catherine Cardy (ccardy))
Shireen Class had a wonderful first trip to the London Fields Park Forest School site on Tuesday afternoon.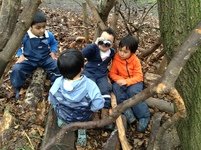 Children enjoyed the freedom to play in the grass and leaves among trees and to hunt for insects. They also very much enjoyed their hot chocolate before returning to school. Thank you to all the parents for volunteering to help with Forest School. Thank you to Natalie for organising the first session. We can't wait until next week!