Number Day!
Number Day!
14 February 2020 (by Lizzie Bulley (lbulley))
We're celebrating NSPCC Number Day at London Fields today!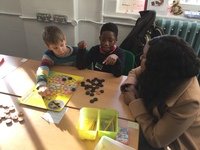 It's Number Day today and Year 2 have kicked off the celebrations by inviting their family to join them in Maths games. The whole school have dressed up in mathematical inspired clothes and have been given a question where they have to find the adult with their answer!