Hoop Dreams!
Hoop Dreams!
27 January 2020 (by Lizzie Bulley (lbulley))
We attended Young Hackney's Basketball Festival.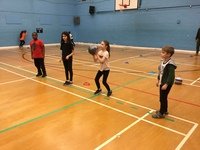 Last Wednesday, eight children from Year 3 and 4 visited Britannia Leisure Centre to take part in a basketball festival. The children took part in various activities such as a cone dribbling relay, dragon tails and dribble and shoot. The children worked exceptionally well together and were the winning team! We're very proud of their excellent team spirit and sporting attitude!