Legal Eagles!
Legal Eagles!
13 December 2019 (by Helen Fitzpatrick (admin))
Year Six had a special visitor today!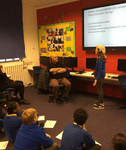 We were visited by a real-life barrister, in preparation for our Work Week project next week. He explained to us what it was like to be a barrister, and told us about the different roles that there are in the criminal and civil courts. We then had a change to practice our cross-examination skills! We hadn't had quite as much training as a professional barrister, but we still managed to give it a good go!