Year 2 sing their hearts out!
Year 2 sing their hearts out!
30 October 2019 (by Lizzie Bulley (lbulley))
Today, Year 2 visited the Royal Festival Hall to take part in the Brightsparks Concert.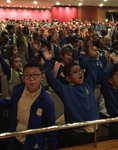 Over the past few weeks Year 2 have been learning some songs inspired by the book Zog by Julia Donaldson. Today they attended a special concert where they got to perform these songs with at least 100 other children and a live orchestra! The children had a great time and will treasure this experience forever!
Written by Ms Bulley, J'ziah and Aniah.