Micro Musicals!
Micro Musicals!
17 September 2019 (by Helen Fitzpatrick (admin))
Congratulations to our Year 3 children!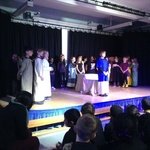 This afternoon, our wonderful Year 3 children performed our first ever Micro Musical. Copeland Class took us back to Ancient Egypt and told us the story about Queen Nut and the curse! Underwood Class taught us all about the Stone Age! Both classes were outstanding and had us all singing the songs by the end of performances.
Thank you Chris and Wendy from Micro Musicals for coming in and helping us learn the songs and thank you to Nightingale School for sharing their knowledge and costumes!