Young Geographers in Year Two!
Young Geographers in Year Two!
17 November 2023 (by uakyuz)
This half term, Year Two have been learning about the UK as young geographers!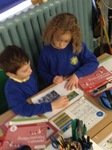 Our topic title for our geography topic this term is called 'The UK'. In one of our lessons, we developed our knowledge on physical features and human features so that we could get better at investigating places. In this lesson, we gained semantic knowledge on urban and rural areas within the UK. Our task was to list physical and human features found in rural and urban areas in the form of a Venn diagram, to demonstrate our procedural knowledge.