Reception visits Hackney Museum
Reception visits Hackney Museum
16 May 2023 (by Natalie Reception (nski))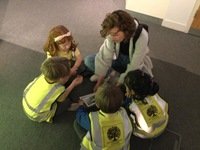 We were so excited to go on our first trip as a class!
We went to the Hackney Museum and listened to a story about Leah, a child who goes to school in Hackney. One day she found a coin in the playground and was transported to the Victorian era where she met Mary. Mary and Leah are the same age, but they lead very different lives. Leah was surprised to find out that Mary had a job! We looked at some old Victorian cleaning objects and tried to guess what they were used for, and spotted differences in pictures of familiar places in Hackney from the Victorian era compared to today.
We are already looking forward to our next trip!