Quicksticks!
Quicksticks!
30 March 2023 (by uakyuz)
Underwood Class as Quicksticks players!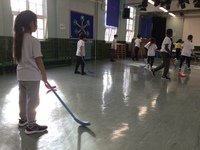 This term, Underwood Class have had a go at playing Quicksticks for the first time! There were times when had to work as a team when push passing the ball to our team mates or partners. We made sure that we watched carefully when playing quick sticks to see who we had to intercept. We also had to make sure that we made eye contact to see who we would tackle in order to score. Our defenders tried their very best and the tacklers made sure that they tackled in a way that they didn't hurt anyone in the process.