Underwood meets Underwood!
Underwood meets Underwood!
21 March 2023 (by uakyuz)
Y3 Underwood Class got to meet Eric Underwood!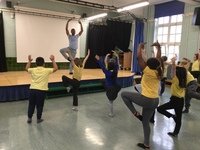 Underwood Class was lucky enough to meet the famous ballet dancer, who our class is named after! We were very excited to meet him in person and had many interesting questions to ask. We were also very delighted to be taught some ballet skills from the professional ballet dancer himself!