Celebrating Excellent Writing!
Celebrating Excellent Writing!
6 March 2023 (by Katherine Gillard (kgillard))
Y2 children enjoyed their creative writing today!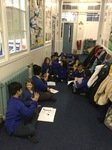 Y2 imagined that when one of their duckling eggs hatched it wasn't a duckling as expected! Instead they discovered a rather peculiar creature! They wrote a lovely descriptive piece describing how the creature looked and how it moved. It was a perfect task to apply lots of knowledge that they had already learned in their English curriculum. They thought about their choice of adjectives, used interesting noun phrases and carefully selected appropriate verbs and adverbs. Their writing was so impressive we felt it needed a larger audience.... so we ventured up to Y6 and shared the Y2's writing with them! The Y6 children were very impressed- they gave the Y2 children a high-five!
Here are some extracts from several Y2 writers.....
Out hatched a peculiar creature that was a mixture of a human, a cat and a mermaid!
On its body it had incredibly long green spikes.
When the creature hatched it jumped excitedly around the room!
The creature also had rainbow coloured fur which was very soft.