Ducklings in Year 2!
Ducklings in Year 2!
28 February 2023 (by eallen-mersh)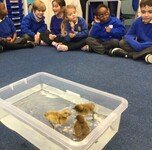 Last week each Year 2 class were given 5 duckling eggs. Over the last seven days, we've watched them hatch and grow into beautiful, fluffy ducklings! In Science, we've been learning about adults and their offspring, life cycles and what animals need to survive. We even wrote our ducklings a set of instructions to escape school to London Fields Park in our Creative Writing lesson!