Making fantastic memories at Forest School
Making fantastic memories at Forest School
10 February 2023 (by Natalie Reception (nski))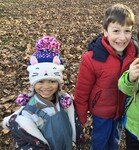 On Thursday the children had their last session of Spring 1 at Forest School. We are all looking forward to see what changes will happen to our Forest School site when we return in 2 weeks.
We are making such great memories at Forest School. Every week we are building on our skills, getting better at exploring, talking about the changes we see in our environment, using our imagination to create and build with the natural resources around us.
Have a lovely half term, and we will see you in Spring 2!