Crunch time in Year 1!
Crunch time in Year 1!
8 February 2023 (by cdamigos)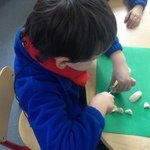 Last week, Year 1 enjoyed making some delicious breakfast granola. While they waited for the granola to bake in the oven, they learn to chop bananas and strawberries using the bridge hold. Finally they added the yogurt, fruit and granola together and enjoyed eating it together in the classroom as a healthy treat!