Una paella deliciosa!
Una paella deliciosa!
11 January 2023 (by Megan Perryman (mperryman))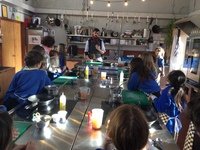 This week Year 4 have been brushing up on their culinary skills at Hackney School of Food. To support our Geography topic which is focused on Europe this term, as well as helping us with our Spanish, we learnt how to make a delicious paella. Chef Tom taught everyone some kitchen safety rules and we then created delicious paellas ourselves. We also talked about the history of making paella and the flavours that are associated with Spain. We hope parents have had a chance to try some of the food, but suspect that the children may have eaten it all themselves!