A sporting challenge!
A sporting challenge!
29 September 2022 (by Megan Perryman (mperryman))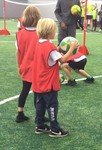 Yesterday Year Four took part in the SportInspired Festival supported by UBS. We tried out six different sports at the Britannia Leisure Centre: rugby, volleyball, boccia, wheelchair basketball, martial arts and dance. Well done Year Four for trying something new and showing excellent team spirit throughout the day.