Year 5 Performs Samba!
Year 5 Performs Samba!
6 July 2022 (by btejero)
Year 5 have been learning about 'Samba'!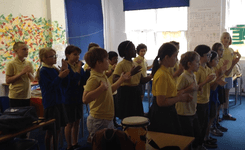 We linked our learning from previous years with Geography, History and Spanish to our new Music topic. We enjoyed learning about Samba and had a great time putting together our very own version using body percussion!