Crime Scene Investigation
Crime Scene Investigation
18 May 2022 (by raustin)
Detectives set to work to solve the case of the missing chocolate...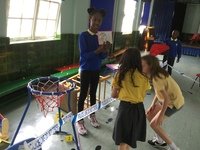 Children in Years 1 to 6 were shocked to discover that our school had been visited by a thief. Not just any thief... a chocolate thief! Detectives examined, clues, evidence and finger prints in search of the culprit. Here you can see the detectives searching the crime scene and identifying the 4 suspects: Goldilocks, Red Riding Hood, Jack (Jack & the Beanstalk) and Hansel.
To see the crime scene click here:https://www.youtube.com/watch?v=qt1UXNiuJaY
If you would like to find out how the detectives solved the case and captured the chocolate thief, ask of our detectives!