Year Four Greetings Cards!
Year Four Greetings Cards!
1 April 2022 (by Helen Fitzpatrick (admin))
Year Four have been making light-up greetings cards for our Design & Technology Project this term.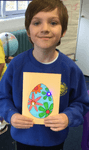 Our design brief was to design and make a light-up greetings card that celebrates a special occasion for a member of the public to buy. From our design brief we would need to develop our technical knowledge of electrical circuits. We used copper tape (a conductive material) LEDs, switches and batteries to make circuits.
Next we took inspiration from existing products. We evaluated these products, reflecting on their strengths and areas for improvement. We then completed some market research by emailing a local shop keeper, to find out which designs sell best. This helped us to write our design criteria.