Year 2 surprise for Reception children!
Year 2 surprise for Reception children!
31 March 2022 (by Megan Perryman (mperryman))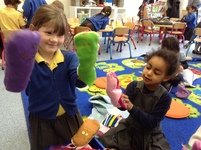 This week Year 2 have been designing, making and evaluating animal hand puppets for Reception children. Our puppets had to be safe for younger children to play with, secure so they didn't fall apart, and brightly coloured so the children would want to play with them. We learnt some new practical techniques including running stitch and making a pattern piece. Today the children in Reception had a special activity where they were able to play with the puppets. They looked after them very well so the Year 2 children could take them home at the end of the day.