Music week in Year 4!
Music week in Year 4!
4 March 2022 (by adorman)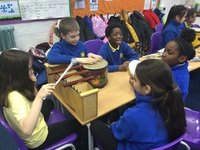 The children had a fabulous week learning about Ravel's Bolero. They learnt the bassline and ostinato to Bolero and performed it themselves in groups either with instruments or using body percussion. Finally they made their own ensemble to create a wonderful crescendo!