Becoming bakers at E5 Bakehouse!
Becoming bakers at E5 Bakehouse!
3 March 2022 (by Katherine Curley (kcurley))
We were invited into the kitchen at E5 Bakehouse for a masterclass of baking our own flatbreads!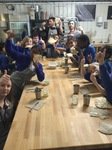 We were involved in every stage of the breadmaking; learning about the starter then measuring out all the ingredients and mixing them all together.
After kneading our dough we left it to rise. Whilst the dough was rising, we had a VIP tour around the bakery and made butter by shaking up cream! Finally, we rolled out our dough into a flatbread shape each and popped them in the oven to cook. It only took 2 minutes because the oven was 300 degrees!
The best part? We got to eat our flatbreads with the butter we had made! 10/10 ratings from everyone!
Thank you E5 Bakehouse for making us into star bakers - we'll be back!