Becoming Roman Soldiers!
Becoming Roman Soldiers!
24 November 2021 (by Helen Fitzpatrick (admin))
Children in Year Four have been learning all about what happened after the Romans expanded their empire and invaded Britain!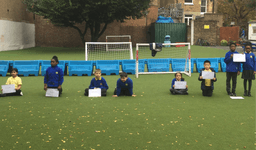 The Emperor Hadrian ordered Year 4 to build a section of Hadrian's Wall to stop the barbarians from raiding our towns and stealing our goods! We had to make sure it was attack proof and had facilities where our soldiers could live.
We had to make mile castles, turrets and forts to ensure we could protect the land. Here is a photo of our frontier.