Year 2 become portrait artists!
Year 2 become portrait artists!
20 October 2021 (by Megan Perryman (mperryman))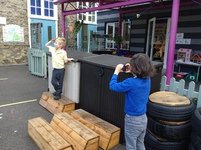 Year 2 have had a wonderful time during Art Week. We have been learning about portrait artists such as Thomas Gainsborough, Andy Warhol, Kahinde Wiley and Mickalene Thomas. We discovered the difference between Grandeur and Realistic portraits, explored warm and cool colours, and found out that many artists prefer to show a relaxed face rather than a smiling one. We used all this knowledge to help us today when we took portrait photographs of each other. We each then chose our favourite photo, which will be coming home later this week!