Music Week in Year 5!
Music Week in Year 5!
12 October 2021 (by btejero)
Year 5 have been learning about 'The Planets' which is a seven-movement orchestral suite by the English composer Gustav Holst.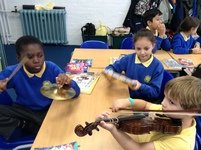 We learnt fact about Holst and why he composed The Planets.
Inspired by him and his compositions we came together to develop a class composition. We thought about how we could combine pattern 1, pattern 2 and pattern 3 and how recording symbols could help us play together. This also helped us to think about how we could vary our dynamics and include a crescendo. When we performed, a conductor helped us perform each pattern at the right time.
Have a look at our performance!