Camping
Camping
21 July 2021 (by Max Lawson (mlawson))
Year 5 and 6 had a fantastic time on their overnight trip to Farnham last week.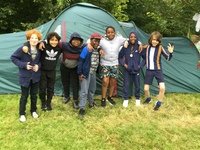 The children spent their time experiencing nature first hand with a wonderful array of activities laid on by the fantastic team at space2grow including: petting animals from the mobile farm, paddling in the stream that runs along the edge of the site, baking homemade pizzas in the woodfire oven, making and decorating scarecrows, Japanese leaf printing on canvas, trampolining and even exploring the WWII pillbox on site.
On top of all this, there was a hilariously entertaining panto production in the evening, with teachers even getting special mentions! All of our needs were catered for, including accomodation for the overnight stay, dinner and breakfast in the morning.
Without doubt, this was another transformational trip for the children at our school, and it was also a lot of fun too! We can't wait to come back and visit again. Thank you space2grow!