Year 3 code Probots!
Year 3 code Probots!
23 April 2021 (by btejero)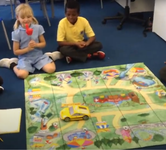 In Computing during the autumn term we explored and learnt about how probots work. We then were given a scenario in which the probot needed to pause. (For example, draw a route where the probot must drive to a T-junction, pause for 4 seconds, then turn right and drive on) Using the floor mats, we created a challenge which involved the probot driving a route, pausing for a certain amount of seconds, then driving on. We even drew shapes and the letters of our names using the probots!
Here are some videos of our probots in action during our final lesson. The probots had to tour the British Isles or a theme park without us touching them once!