Hold onto Hope!
Hold onto Hope!
12 February 2021 (by Katherine Gillard (kgillard))
Here it is....our very own version of 'A Way To The Stars'!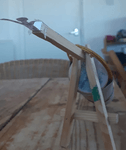 Thank you to all of you for embracing the poetry project and sending in your amazing creations. You are all fabulous!
Here is the link for the video: https://www.youtube.com/watch?v=zNQEyDeFSpw&feature=emb_logo
Also, a big thank you to those of you who took on the extra challenge to write or draw something that encourages people to stay hopeful and to be a 'possibilityist'! We loved them all!