Ancient Benin Art
Ancient Benin Art
25 January 2021 (by Max Lawson (mlawson))
Year 5 have been creating artwork at home inspired by the Benin bronzes.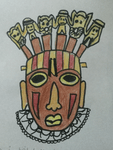 We drew sketches of various artefacts from the Kingdom of Benin. We discovered that many pieces recorded daily life, including trading, warfare and ceremonies.
We explored some of the attitudes and misconceptions of many 19th Century Europeans about the Benin bronzes. They believed that they were too beautiful to have been created in Africa, and thought that they must have come from somewhere else.
We also found out that many examples of Ancient Benin art were stolen by European visitors for private collections and museums around the world, including the British Museum!
Do you think it's right for these museums to keep these artworks?