LYG x School Games Fitness Challenge
LYG x School Games Fitness Challenge
19 January 2021 (by Lizzie Bulley (lbulley))
Are you ready to take the challenge?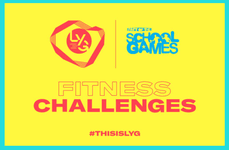 London Youth Games will be releasing weekly fitness challenges throughout the Spring Term to help keep you active during lockdown.
A new challenge will be released every Monday at 9.00am via their website and social media channels. You will have until Friday at 12.00pm to complete the challenge and submit your score.
Complete the challenges to earn points and help your borough climb the leaderboard. London Youth Games will provide weekly updates, and at the end of Spring Term, the winning borough will be announced. Share your challenge attempts with London Youth Games on social media using #ThisIsLYG
https://www.londonyouthgames.org/virtual-games/lyg-school-games-fitness-challenges/