Uniforms on and ready to go!
Uniforms on and ready to go!
18 December 2020 (by Catherine Cardy (ccardy))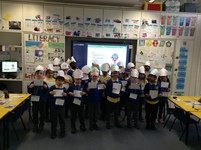 Year One have learnt about the world of work this week, learning about a variety of professions and the diversity within different roles. The main focus across Year One has been on the Postal Service. Working in teams, children have learnt about the journey of a letter or parcel, including sorting and delivery. It looks like their uniforms are finished, so all ready to deliver those letters today. Go for it Year One!