Year Six become legal eagles!
Year Six become legal eagles!
15 December 2020 (by raustin)
Visits from Leigh Day solicitors launched Work Week for children in Year Six.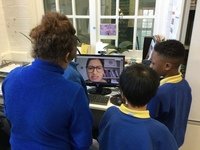 As Work Week commenced, Year Six were visited by a number of people who work for Leigh Day solicitors. From marketing to finance, the children discovered a range of jobs that exist within the firm before moving on to a debate. The children were given 'cases' that they had to explore. This included a case to do with cyber bullying and a case to do with electric scooters. After developing their argument and consulting lawyers from Leigh Day, children went head to head in the court of law (Year Six classrooms) to argue their case.