Virtual Work Week
Virtual Work Week
29 June 2020 (by Max Lawson (mlawson))
This week (29th June) it's Virtual Work Week at school!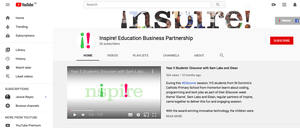 We will be exploring the world of work and the range of different jobs that people do.
At 15:00 each day there will be a live round up on YouTube celebrating your daily tasks and activities.
Email your work into your year group email and visit https://www.youtube.com/channel/UC6glbBqP7i0zESRlt2ngdHQ each afternoon at 15:00. Who knows, you may even see your work!