A Parent's Guide to Black Lives Matters
A Parent's Guide to Black Lives Matters
26 June 2020 (by Helen Fitzpatrick (admin))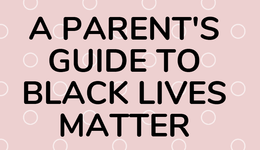 The tragic and distressing death of George Floyd and the subsequent and ongoing events can not go unnoted. We are sure it will have reminded many of you and many of our families of personal experiences and wrongs and for all of us serves as a stark and all too real reminder of the need to ensure that we engage with the issues raised by the Black Lives Matter agenda at all levels of the school.

We are sure even the youngest of the children will hear from older siblings, uncles, fathers, grandparents, friends, wider family members and the community of their experiences of injustice, prejudice, police brutality and inequalities. The Black Lives Matter movement is here to shine a spotlight on everything that is wrong and unjust. For all of us - we all need to engage for change to happen.
We already do a lot with our curriculum to try to present and promote diverse role models and to reflect the community we work with. However, we all can do more and to constantly reflect and challenge ourselves for any unconscious biases we will have. As a school, we are forming a working party who will safeguard this agenda and drive it through the school. Ideally, the group should be formed from all levels and areas of the staff, teachers, support staff, catering staff, admin - all are welcome to join and we are currently recruiting volunteers. We envisage that this group would not only audit the good practice in place but also look into what we could do better and how to do it.
Please note that attachments do not display on the mobile app.
We look forward to sharing their work with you.
In the meantime, we hope you will find this leaflet useful to talk to your children about some of the complex issues involved.