United in Clay!
United in Clay!
21 May 2020 (by Helen Fitzpatrick (admin))
Although we are apart, one happy day we will be together again.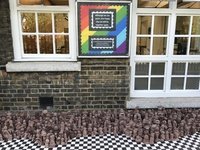 Thank you to everyone who took part in the Antony Gormley inspired art project. We have been truly touched by all your efforts. We hope you had great fun making your clay abstract figures and we hope you love the final exhibition! The exhibition is on show outside the school's main entrance so be sure to have a look if you are passing by!
Please click on the attachment to view some more images of the making process and the final exhibition! Note that attachments do not open in the mobile app - follow the link to the school website to open in your browser.